Lock Repair in Memphis
Lock Repair Experts in Shelby County, Desoto County & Tipton County
Many people know the importance of calling a locksmith when they have been locked out of their homes. However, what is a person to do when the lock itself has stopped working? Just give our team at AAA Safe & Lock a call. For any lock repair in Memphis, we can provide prompt and effective support. Even the toughest, most complex lock systems can be restored to new life by our skilled professionals.
Let us know that a lock is malfunctioning by calling us today at (901) 329-8964 or getting ahold of us online.
Warning Signs for Lock Repairs
It is very important to watch out for signs that a lock is having issues. In many cases where homeowners get locked out, the residents have their key in hand, but it is broken. These situations can be avoided simply by keeping a lookout for locks that have begun to malfunction. If the problem is caught early on, our technicians can efficiently repair the lock instead of replacing it.
A few of the most common signs that locks require troubleshooting include:
The door handles and locks feel loose when turned
Trying to turn the key to lock or unlock it is very difficult
There is a misalignment of the locks
The door needs to be pushed away or pulled in to lock or unlock it
There are signs of rust or erosion on the lock
Several keys are able to open the lock
The key itself has broken off from the shaft and is stuck in the lock
The cylinder of the lock keeps turning
A key will fit correctly in the lock but refuses to turn
Here at AAA Safe & Lock, we are devoted to providing residents with the highest form of security.
"I lost all my keys while on vacation and spoke with almost every locksmith in town, AAA Safe and Lock was the only one to not only know what they were doing but able to tell me the cost to fix my problem. Don't go anywhere else!"

Matt C.

"Great locally owned business. The staff is very friendly. Have gone many times and never had a bad experience. The prices are very fair. They have literally helped me fix bad car locks, door locks, find matching keys and make keys!"

John H.

"Could not have been treated better, by the owner and employees. Knowledgeable and fair pricing, not out to gouge anybody. Had to use them again two days later for my son-in-law's car lockout and again, quick service at a very fair price! Stellar place!"

Bill W.

"Quality is of a high standard, the employees that service my cars know what they are doing and you know it will be right. None of this trying and hoping it works. I wish I could give it 6 stars, you won't find a better locksmith in the mid-south area."

Doug H.
How a Professional Locksmith Can Help
When a door starts jamming every time it is time to lock or unlock it, or the lock simply refuses to work at all, it is time to call an expert. There may be certain occasions where homeowners may be able to pick a lock open on their own. However, lock troubleshooting requires a skilled technician. Our specialists will first carefully inspect the damaged or finicky lock to determine what is the distinct issue it is experiencing. If the issue is a minor one, the first step is to repair the faulty parts, whether it is the key pins or the cylinder that is not working. However, if it turns out the lock cannot be repaired or rekeyed, the lock may need to be completely changed out.
The locksmith will have to use specialized tools to remove the current lock before fitting in a new one. You can count on experts to ensure that all the locks have been appropriately upgraded. Many insurance companies require that houses are fitted with updated locks, or they will not offer financial aid after a burglary or break-in.
Just get in touch with us now at (901) 329-8964 for dedicated lock repair in Memphis.
Continue Reading
Read Less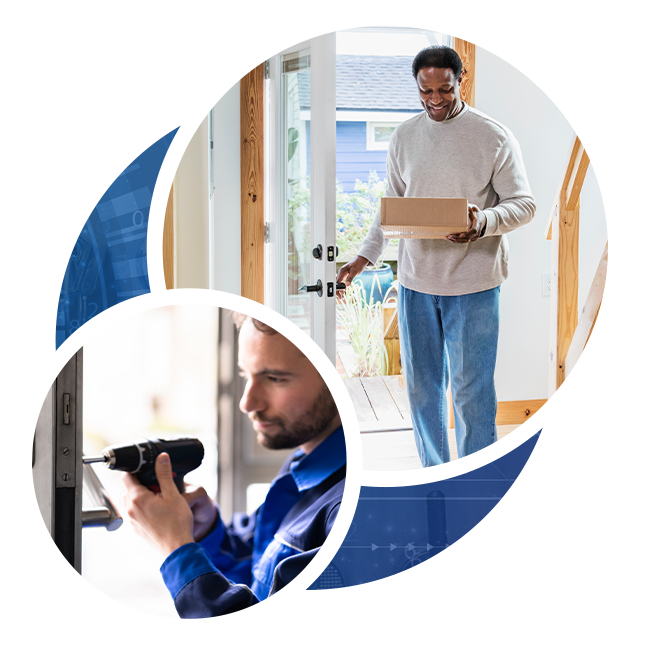 Built with Security
Why AAA Safe & Lock?
Over 50 Years of Experience

Let us bring our industry-leading tools and years of experience to your home, car, or office. We begin every professional locksmith service with a free estimate!

licensed, bonded, and insured

Our team is licensed, bonded, and insured as well to give you better peace of mind. We are also proud members of the ALOA (Associated Locksmiths of America).

local and family owned

For years, residents in Shelby County, Desoto County, and Tipton County have trusted AAA Safe & Lock Co to get access to their cars, homes, offices, and more.