Lock Installation in Memphis
Lock Installers in Shelby County, Desoto County & Tipton County
Through our many years working with neighbors, friends, and family, we have been dedicated to one thing: helping them with our locksmith skills. Our staff is enthusiastic to offer clients excellent customer service whenever they need help with their residence's locks. People's safety is our number one priority, which is why we only offer the most advanced systems. Whether you require new locks for your home or the trunk of your car, we're here for you. Our experts at AAA Safe & Lock specialize in supporting clients with any type of lock installation in Memphis.
Types of Door Lock Installations
There are so many kinds of locks nowadays that residents can be sure to find a solution that fits their unique needs. To figure out which lock would be most appropriate, speak to our knowledgeable professionals.
Our technicians are happy to discuss any kind of lock installation, including:
Knob locks – The most typical kind of lock residents will use is a knob lock. Rather than being fastened on the door itself, the cylinder for locking is placed on the doorknob. These should only be installed inside since any intruder could easily break them using a heavy tool like a wrench.
Cam locks – These kinds of lock use a fastening system which turns around an extended arm or bolt to lock once it is inserted. Residents often use these for pieces of furniture that protect personal belongings. Desks, cabinets, drawers, and display cases often utilize cam locks.
Padlocks – On account of their portable nature, padlocks are very convenient and can be moved around. These can either be installed as a keyed version or as a combination method.
Mortise locks – For powerful security, many residents use mortise locks, especially for external doors. These systems use both a screw and a cam in combination with a recessed box lock. This allows them to be fitted to all sizes and types of doors.
For more information about our high-quality locksmith skills, call our team today at (901) 329-8964 or speak with one of our technicians online.
Why Install Deadbolt Locks?
Owners who are looking for excellent security from trespassers breaking in should consider deadbolts. The bolts on these locks require a springless key or knob to fasten them. This special method for locking makes them able to resist even the most aggressive tampering. Since they come in three forms – vertical, double, or single – residents can select just how tough they want their deadbolts to be. Vertical deadbolts are even able to withstand powerful forces such as crowbars.
"I lost all my keys while on vacation and spoke with almost every locksmith in town, AAA Safe and Lock was the only one to not only know what they were doing but able to tell me the cost to fix my problem. Don't go anywhere else!"

Matt C.

"Great locally owned business. The staff is very friendly. Have gone many times and never had a bad experience. The prices are very fair. They have literally helped me fix bad car locks, door locks, find matching keys and make keys!"

John H.

"Could not have been treated better, by the owner and employees. Knowledgeable and fair pricing, not out to gouge anybody. Had to use them again two days later for my son-in-law's car lockout and again, quick service at a very fair price! Stellar place!"

Bill W.

"Quality is of a high standard, the employees that service my cars know what they are doing and you know it will be right. None of this trying and hoping it works. I wish I could give it 6 stars, you won't find a better locksmith in the mid-south area."

Doug H.
Locking technology has only continued to advance within the last few years, offering homeowners an even greater peace of mind. For improved versatility, without a physical key that could get lost, why not consider a keypad or even a smart lock? Using batteries or electrical power, such modern solutions make protecting valuables easier than ever. These methods can even be programmed automatically, sending system alerts if there is an intruder. For more info about our cutting-edge systems, speak to AAA Safe & Lock.
Reach out to us now at (901) 329-8964 for dependable lock installation in Memphis.
Continue Reading
Read Less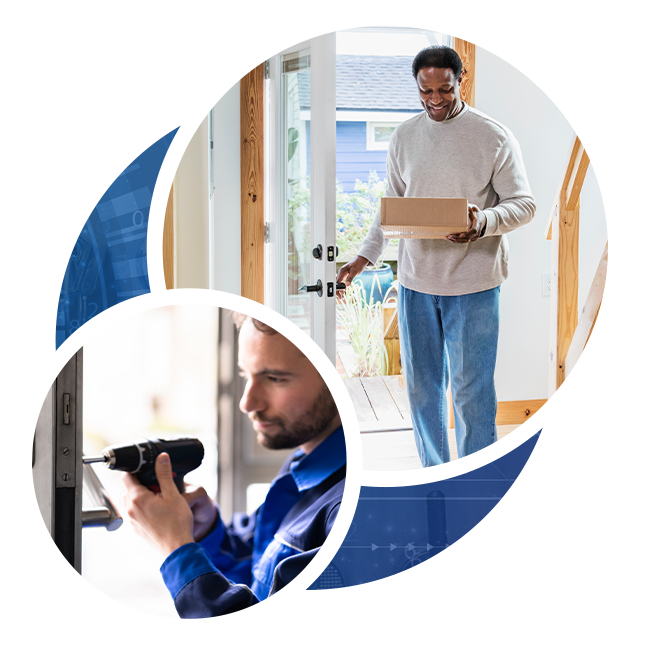 Built with Security
Why AAA Safe & Lock?
Over 50 Years of Experience

Let us bring our industry-leading tools and years of experience to your home, car, or office. We begin every professional locksmith service with a free estimate!

licensed, bonded, and insured

Our team is licensed, bonded, and insured as well to give you better peace of mind. We are also proud members of the ALOA (Associated Locksmiths of America).

local and family owned

For years, residents in Shelby County, Desoto County, and Tipton County have trusted AAA Safe & Lock Co to get access to their cars, homes, offices, and more.